Clover White
16,00€
Do you believe in luck?
Well, these perfomance socks are for you then. These talisman socks will help you achieve all your goals. And if they work for you, remember that there is another version of them in green.
Description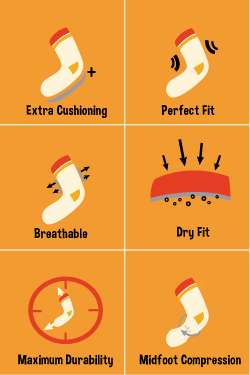 Designed for intensive high-impact activity and high running performance, offering comfort and maximum adaptation to the foot. To complete the design, the mesh in the sole offers great cushioning in the tread, with extra heel and toe protection.
It is designed with MERYL®, a high-end fibre that gives the sock breathability, moisture absorption and quick drying. The technology of these components gives this sock a lightness, durability and resistance superior to that offered in common sports socks. The LYCRA provides the perfect fit and adaptation to the foot by providing the compression required in the hottest workouts and races.
67% MERYL / 13% LYCRA / 20% Elastic